Tracklist:
---
Review:
---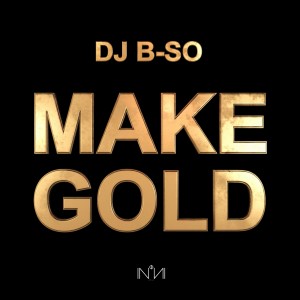 FR
Make Gold est une œuvre audiovisuelle, sous forme de court métrage musical, qui a pour ambition de confronter le mythe du Roi Midas aux écueils de nos sociétés contemporaines. En 2016, Midas n'exige rien mais rêve à n'en plus pouvoir, sa passion pour l'or n'a rien à envier au mythe originel. Sa chute également.
Dans ce court métrage, B-SO nous livre son 1er projet qu'il a composé écrit et scénarisé, une mélodie Hiphop à tendance Bass music. « En revisitant ce mythe, j'ai voulu semer le doute sur les canons et les diktats imposés.» Plus que jamais face à la précarité, il y a un  « Midas » en chacun de nous qui peut à terme nous faire passer à côté de l'essentiel .»
Make Gold est une production originale envoutante aux influences Hiphop et bass musique aux sonorités orientales et tribales. Les origines multi-culturelles de B-SO lui permettent d'être à l'aise dans le mélanges des genres. Il en fait d'ailleurs sa spécialité étant lui même métissé. Il est aller puiser dans ses propres racines, Make Gold est une synthèse de ses influences et origines.
3 thèmes, 3 ambiances, une oeuvre hors format adapté aux images quelle accompagne
EN
Make Gold is an audiovisual work as a musical short film, which aims to confront the King Midas myth to the pitfalls of our contemporary societies. In 2016, Midas requires nothing but dreams endlessly , his passion for gold has nothing to envy to the original myth. So does his fall .
In this short film, B-SO gives us his first project that he has composed ,written and directed.Make Gold is an original production with Hiphop and bass music influences with oriental and tribal sounds. The multicultural origins of B-SO allow him to be comfortable in mixing genres. Make Gold is a synthesis of his influences and origins.
With 3 themes, 3 atmospheres, it is an off-standard work adapted to the images it accompanies.